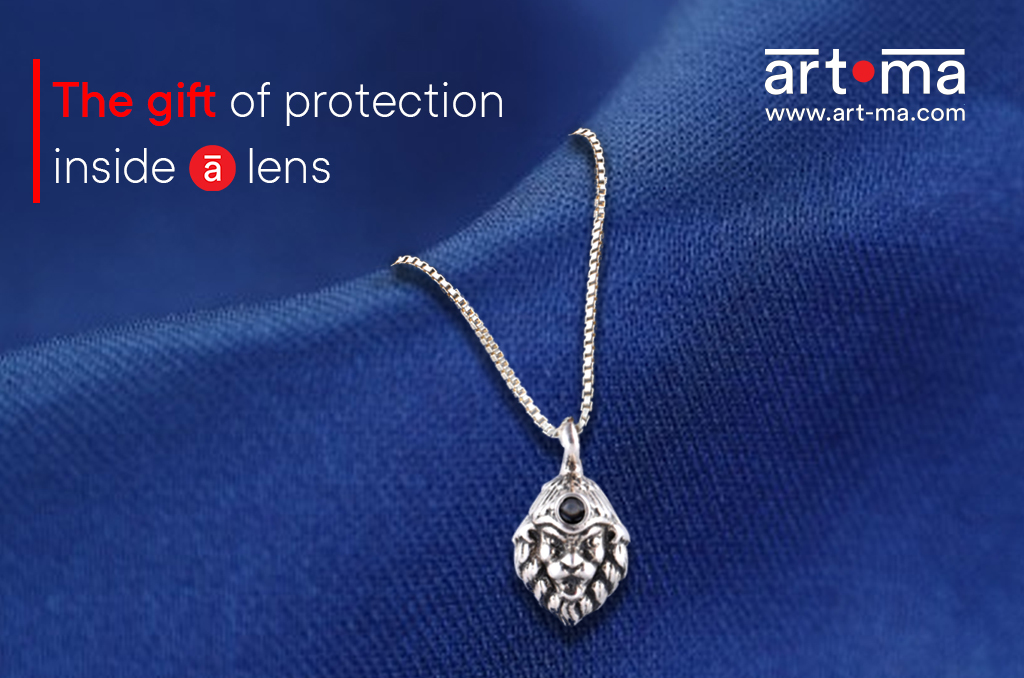 When times are tough, belief in a higher spiritual power always comes to the rescue. It gives us hope and helps us feel protected. While prayer is one way to feel closer to this supreme power, having a physical reminder of this belief can tide us through the worst of times.
This is why Art-ma and Mantra4U are collaborating to bring you the Lord Narasimha Kavacha Pendant. This is the first in a collection of six pendants that will be launched as part of this spiritual collaboration. It is a handcrafted, solid sterling silver pendant with an 18-inch silver chain. But what is truly unique about the piece is that it includes a delicately placed 3mm lens that features the complete Lord Narasimha Kavacha Stotram (a powerful mantra meant to protect the welfare of the wearer). The gift comes in a luxurious gold-embossed box, lined with silk and satin. Inside, you will also find the Lord Narasimha Kavacha screen-printed on hand-pressed paper in an exquisitely bound booklet, which also explains in thoughtful detail the significance of Lord Narasimha and the stotram.
It is the perfect gift for a loved one, not just due to its delicate design, but also because Lord Narasimha, who is an avatar of the Hindu God Vishnu, is primarily known as the 'Great Protector', who shields his devotees from all evil and calamity with an aim to restore Dharma (social order) on Earth.
This lion-headed God is also a symbol of hope against all odds, and victory over persecution. He destroys not only the evil that surrounds us, but also the evil that resides within us – in our body, in what we say and in what we think. This beautiful piece is the perfect way to show someone just how much you care for them. So what are you waiting for? Order the Lord Narasimha Kavacha Pendant today!