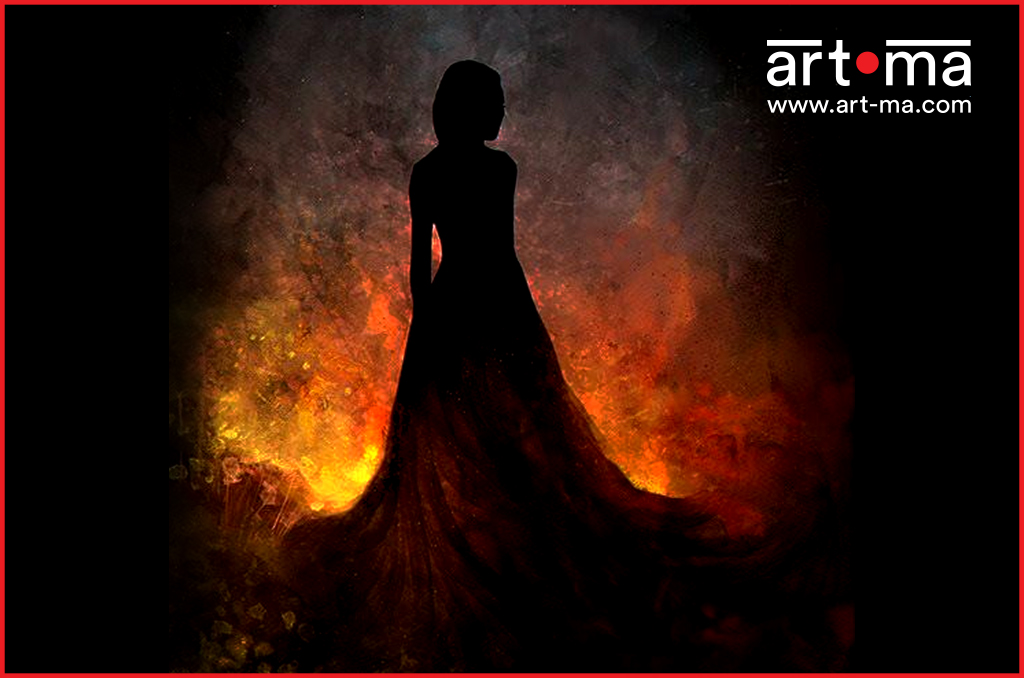 The Mahabharata is an amalgamation of some of Indian literature's greatest characters. But what truly sets it apart from the rest is its progressive depiction of women. A prime example of this would be the character of Draupadi. This brave, proud, fiery and enigmatic heroine of the Mahabharata isn't afraid of speaking her mind. Her life had several tragedies, but she stood tall amidst every battle, and that is why she remains one of the most loved and respected characters in this epic poem.
Draupadi was the daughter of King Drupada of Panchal. The circumstances surrounding her birth in a way explains her fiery personality. King Drupada had made an enemy out of his childhood friend Drona over the former's reluctance to help the latter in his time of need. An angry Drona never forgot his friend's betrayal and found a way to seek revenge through his ace student Arjuna, who defeated Drupada in a battle and eventually took half his kingdom.
A livid Drupada sought revenge on Drona and besieged the Gods by performing a yagna to give him an offspring that could defeat Drona. From this sacrificial fire emerged two off-springs – Drishtadyumna and Draupadi.
In her past life, Draupadi was known as Nalayani and was married to a sage named Maudgalya, who was unable to satisfy his wife the way she desired and abandoned her to live in a forest. A frustrated Nalayani did penance to appease Lord Shiva, who granted her a boon. Nalayani asked for a husband, but was so anxious that she mistakenly repeated the boon five times. Lord Shiva accepted all five of her boons, and hence in her next birth as Draupadi, she was married to five men.
Throughout her life, Draupadi found herself at the mercy of the men in her life. Her father arranged a swayamvar (an event where several suitors compete to win the bride) for her. Among her suitors were kings and princes who had to pin the eye of a gold fish with a bow and arrow by looking at its reflection in the water. Even Karna was present at the swayamvar, but some versions of the Mahabharata say that Draupadi didn't allow him to participate because he was 'the son of a charioteer'. All the royal suitors failed to win the challenge. Eventually it was Arjuna, disguised as a Brahmin, who took home the bride. Draupadi, who until then had lived the life of a princess, had no idea who Arjuna really was, and uncomplainingly walked miles in the sun towards her new home and her new life. What happened next is a testament to Draupadi's endurance.
When they reached home, Arjuna approached his mother, who was busy praying, and jokingly told her he had brought alms home. A distracted Kunti, who hadn't noticed Draupadi, told her son to share the alms with his brothers. Adhering to their mother's command, the five Pandavas decided to share Draupadi amongst them. Draupadi was made to feel like an object that the Pandavas had 'won'. She had to bury the love that she had for Arjuna and adjust to this new setup about which she had not been consulted. But she never once let any of them feel less appreciated or loved.
The second great tragedy of Draupadi's life occurred sometime later. The Pandavas had ended their exile and were ruling over a flourishing Indraprastha. Their warring cousin, Duryodhana, wanted to humiliate and defeat his five cousins. He organised a game of dice and invited his cousins to play against him. A naïve Yudhishthira accepted the challenge. One by one he gambled away his brothers and lost to Duryodhana. The only person left was Draupadi, who was also foolishly gambled away by Yudhishthira.
But for Duryodhana, the humiliation wasn't complete. When Draupadi refused to become Duryodhana's slave, she was dragged by her hair into his court, where he commanded her to disrobe completely. None of her husbands or the elder men such as Bhishma and Dhritarashtra, whom she respected, came to her defence and instead watched silently as she protested at the top of her voice and questioned their silence. It was her friend Krishna who helped her eventually. Dhritarashtra, Duryodhana's father, attempted to salvage the situation and granted Draupadi three boons. She could have asked for anything, but she chose to free her husbands from slavery and asked that their weapons be returned to them. Her loyalty was tested to the maximum, but Draupadi still fought for her husbands' freedom.
Draupadi endured a life in exile, polyandry, humiliation and the death of all her five sons in the Kurukshetra war. But she never gave up. She remained steadfast until the end when she lost her life on a journey with the Pandavas to the Himalayas and eventually went to heaven.
Draupadi's character holds many lessons that can be applied even today. She was a fighter and didn't tolerate injustice meted out to her or anyone else. She is an unforgettable example of sheer determination who proved time and again that she was in no way less than a man.