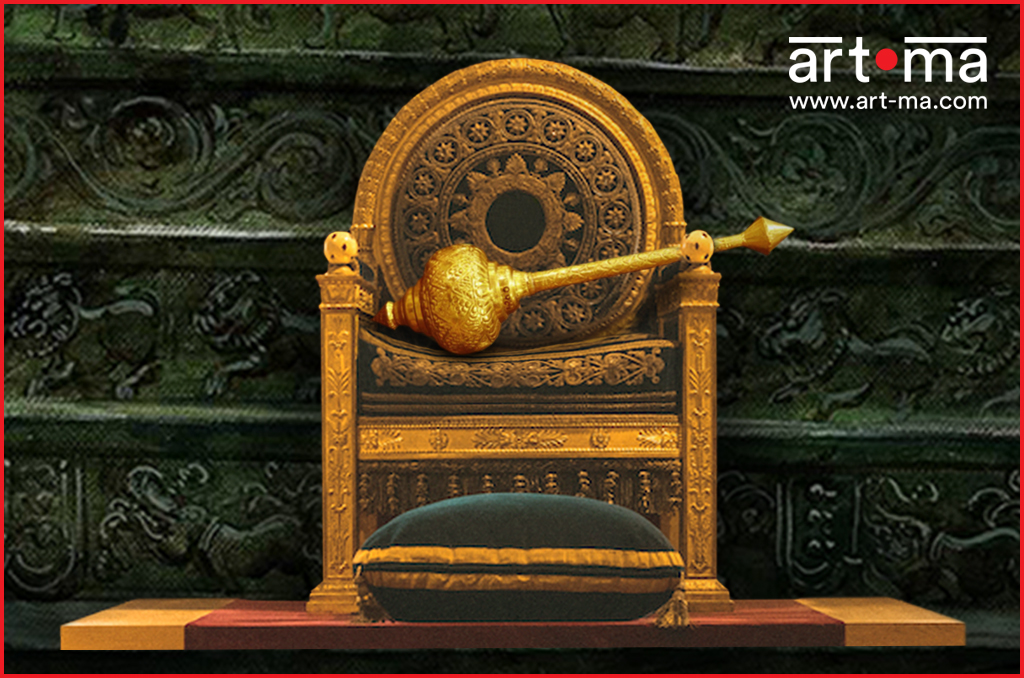 Every epic tale must have a mighty antagonist. In the Mahabharata, Duryodhana fits this role perfectly. His toughness as an opponent is reflected in his name, which in Sanskrit means 'difficult to conquer'. The Pandavas had to use not just their physical strength, but also clever strategies to finally defeat their cousin Duryodhana.
Duryodhana was the eldest of 100 Kaurava children born to the blind king Dhritarashtra and his wife Queen Gandhari of Hastinapur. Due to Dhritarashtra's blindness, his brother Pandu (father of the Pandavas), took over the throne. Herein lies the crux of the main conflict in the Mahabharata. With Pandu taking over the reins, it was his eldest son Yudhisthira who became heir apparent and not Duryodhana. Duryodhana was angered by this and began his quest to destroy the Pandavas and reclaim the throne.
It must be said, however, that anger and jealousy were intrinsic to Duryodhana's character from an early age. As a child, Duryodhana was said to be extremely threatened by the enormous physical strength of his Pandava cousin, Bhima. Negativity got the better of him when he tried to kill Bhima, who loved food, by feeding him a poisonous meal and throwing him in the river. Bhima managed to survive, but this story is indicative of what was to come next.
When Yudhisthira was named successor to the throne, Duryodhana, with the help of his uncle Shakuni, plotted to have the Pandavas killed in a fire. But the family managed to escape, and went into hiding. When they returned to the kingdom, it was their grand-uncle Bhishma who, in an attempt to avoid a clash, suggested the kingdom be divided between Duryodhana and Yudhisthira. So Duryodhana became crown prince of Hastinapur, while Yudhisthira ruled over Khandavprastha, which the Pandavas renamed Indraprastha.
However, Duryodhana's jealousy reared its ugly head once again after the kingdom of Indraprastha prospered much more than Hastinapur, and Yudhisthira added several other kingdoms to his name. He vowed to humiliate the Pandavas and, at first, succeeded. Duryodhana challenged his cousin to a game of dice, which the latter naively accepted. Yudhisthira ended up losing his wealth, his brothers and his wife, Draupadi. A humiliating scene where Duryodhana tried to disrobe Draupadi revealed the extent to which he could go to win. Another game of dice ensured the Pandavas were sent to 13 years in exile in the forest and thus Duryodhana became the uncrowned emperor of Yudhisthira's kingdom as well.
When the Pandavas returned from exile, Duryodhana refused to return Yudhisthira's kingdom back to him, setting the stage for the 18-day Kurukshetra battle. When the battle began, Duryodhana single-handedly defended himself against the Pandavas and their army for several days. On the 18th day, however, Duryodhana, whose army was by now depleted, chose to meditate by a lake. Here he encountered the Pandavas and told them he was willing to 'gift' their kingdom back to them. Slighted by the comment, the Pandavas told Duryodhana that Hastinapur was not his to gift, and instead asked him to choose any of them for a one-on-one fight. Duryodhana chose Bhima, who mortally wounded the former on his thigh. But even in death, Duryodhana sought revenge, and sent his lieutenant Ashwatthama to kill the Pandavas. Without realising it, Ashwatthama killed the Pandavas' sons instead, and mistakenly told Duryodhana that his five cousins are dead. Duryodhana left his mortal body thinking his revenge was complete.
Even with the death and destruction that Duryodhana left behind, he entered heaven. This is because for all of Duryodhana's fallacies, he defended his dharma, ruled his kingdom well, was a brave warrior, and was a true friend to Karna. The lesson to learn with Duryodhana's character is that all of us carry traits that are good and evil within us. It is intrinsic to human nature. But it is important to walk the path of righteousness and morality because if our dark side takes over, strife and discord is sure to follow.