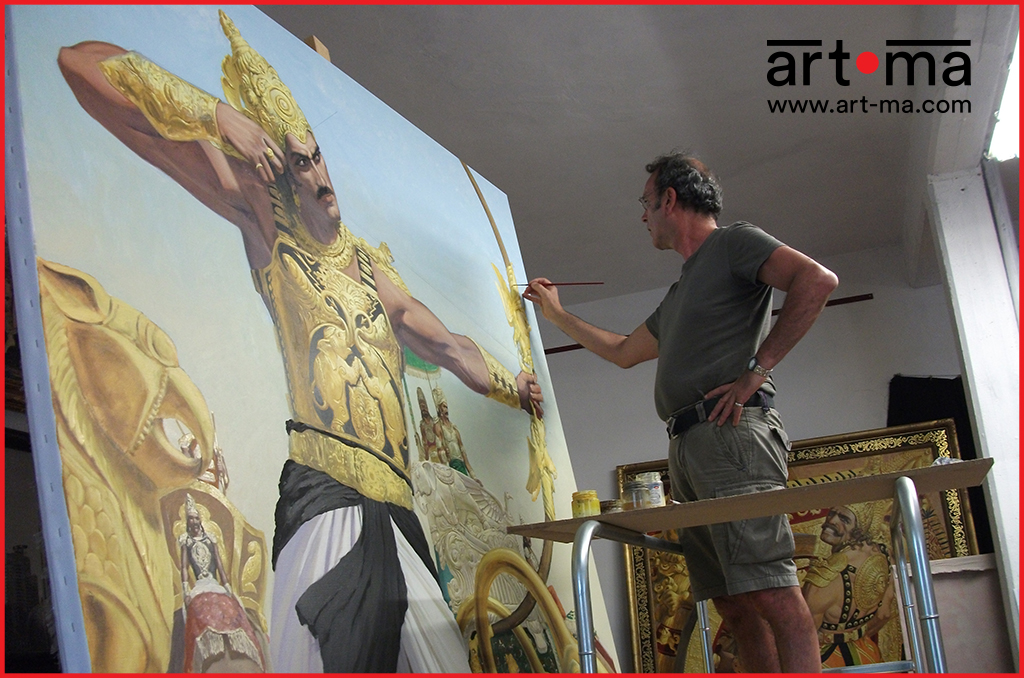 Artist Giampaolo Tomassetti may have been born and raised in Italy, but an early curiosity about spirituality led him to form a deep connection with Vedic culture. He found inspiration in texts such as the Bhagavad Gita and the Srimad Bhagavatam. Frequent trips to India only strengthened that bond with the practice of Bhakti Yoga and living a simple, renounced life. He began illustrating books produced by spiritual teacher and scholar Bhaktivedanta Swami Prabhupada, and even lived as a monk for nine years, adopting the name Jnananjana Dasa. All of this accumulated knowledge had a purpose, which we now have the privilege of viewing in Tomassetti's brilliant Mahabharata collection.
Tomassetti studied the Mahabharata minutely until he felt a connection to the feelings of the characters. This connection is more than visible in Tomassetti's poignant depiction of Kunti as she gently strokes the head of Karna, the son that she abandoned when he was an infant.
The journey to bring the collection to light was as enlightening as it was tough. It all began when Tomassetti's friend, artist Pandu Putra (Patrizio Landolfi), approached him in 2008 with the idea of making several paintings inspired by the Mahabharata.
It took Tomassetti five years (2008-2013) to complete the paintings. What is striking is not just Tomassetti's deep understanding of the Vedic culture, but also the beauty of his vivid imagination that brings to life this ancient text that is so revered. Tomassetti believes the Mahabharata, at its core, is about an individual's inner contradictions – that constant battle between good and bad that each one of us struggles with. It is a true representation of human nature, which is why, Tomassetti believes, the Mahabharata still remains relevant today.
What makes Tomassetti's paintings unique is that even though the subject is inspired by ancient Indian scriptures, his treatment and style have a distinct European aesthetic. Tomassetti grew up admiring the Gothic, Renaissance and Baroque art forms. He thought the classical art form was the best way to depict the characters and scenes in the Mahabharata, which is something that has rarely been seen before.
Tomassetti has painstakingly put in several minute details into all the paintings, which reflect his passion for the subject. His respect for this ancient text is also evident, more so in his magnificent depiction of Vedic culture's most revered time. Tomassetti's main aim to create the series is simple. "To me, the main teaching is that we can be inspired by the Mahabharata to change our world into a more advanced ethic, moral, ecological and happy society," he says.