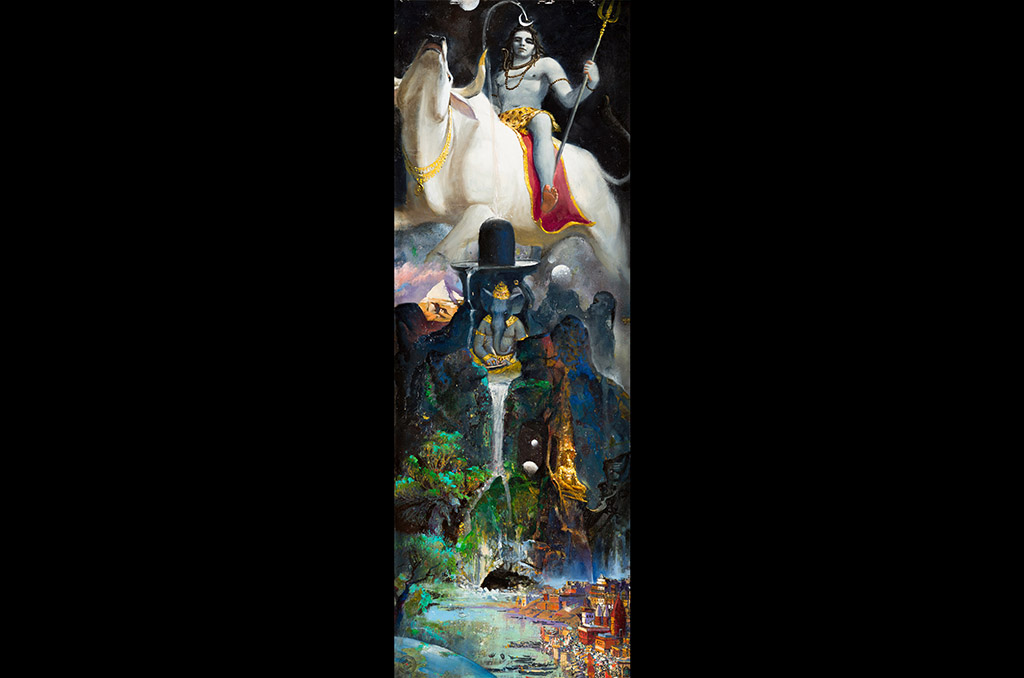 This mesmerising oil-on-canvas painting depicts one of Indian mythology's most holy scenes – the birth of the river Ganges. The story goes that there was a Goddess named Ganga, who represents purification. She was asked to descend on to Earth to purify the lost souls of the 60,000 sons of the mighty King Sagar, who had been murdered by a meditating sage whom they had disturbed. This request had been made by King Sagar's descendent, Bhagiratha.
But there was a problem. The enormous force of Goddess Ganga would destroy Earth as she descended on to it. Which is when Bhagiratha sought the help of Lord Shiva, who broke the mighty fall by allowing Ganga to flow on his head, breaking her up into several streams before she reached Earth. This is the exact scene that has been represented in this painting.
At the top of the painting, you see Lord Shiva sitting on the sacred bull, Nandi. The river Ganga flows through his head and descends downwards. The river is made holier as it passes through the sacred Shiva Linga, which represents Lord Shiva's generative powers. Ganga then passes by Lord Shiva's son, Ganesha – the Elephant God, who is revered as the remover of obstacles. The Ganga then descends down into the Gangotri and eventually into the holy city of Varanasi, which is known as the city of death and rebirth.
Artist Giampaolo Tomassetti brings the magic of this legend alive with a clever use of vibrant colours. Gleaming strokes of white, mid-night blue, celestial gold and earthy shades of green and warm reds recreate the magical realism that is entrenched in this tale.
But there is more to it than just that. Look closer for some hidden gems. On the far left corner, you see Mount Kailash or Kailash Parvat, the abode of Lord Shiva. On the far right, you see a figure with his eyes closed. This is Bhagiratha, praying to Lord Shiva for the safe descent of Goddess Ganga. There are several such minute details in Tomassetti's piece, which will keep the viewer entranced. It is the perfect choice if you are looking to create an interesting space in your home.