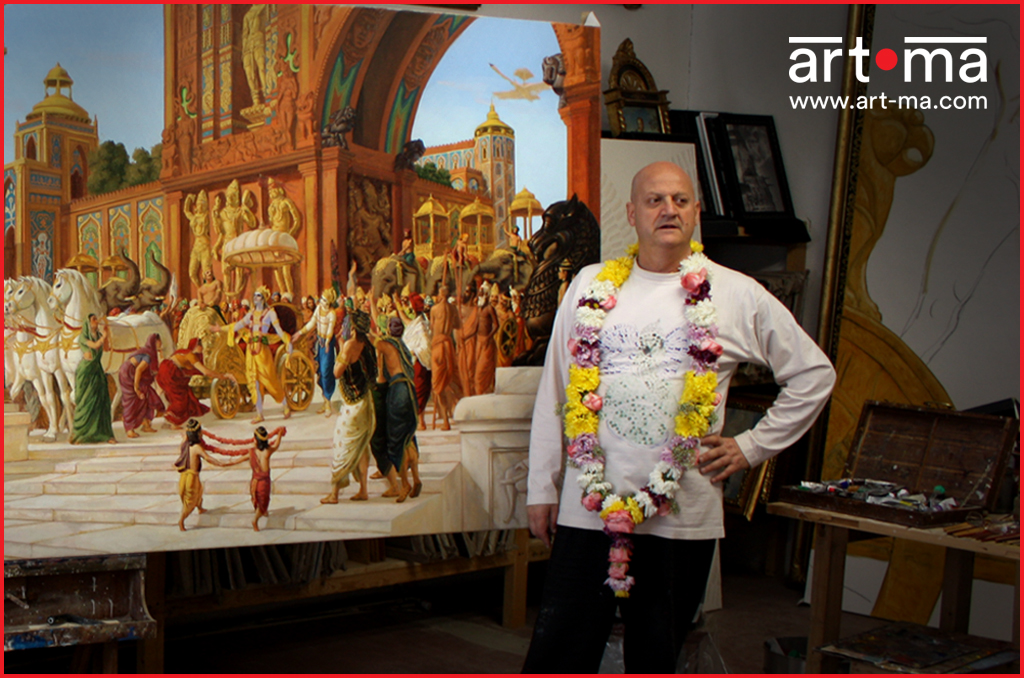 Artist Patrizio Landolfi or Pandu Putra, who curated The Mahabharata Collection, has travelled miles from his home in Salerno, Italy, in search of the truth. He finally found it in India, and in particular the Vedic culture. He joined the International Society for Krishna Consciousness (ISKCON) and worked with several artists on projects such as illustrating Vedic texts. He approached fellow ISKCON devotee, artist Giampaolo Tomassetti (Jnananjana Dasa), in 2008 with the idea of making The Mahabharata Collection. He speaks to Art-ma about this spiritual collaboration.
Could you tell us more about your background?
I was born in Battipaglia, Salerno, south-west Italy in 1954. I have always had a fascination for art. Even as a child, I could not wait to finish my homework and begin drawing or painting. I was searching for truth through my paintings and that journey took me to India, where I discovered the Vedic culture. I became an ISKCON devotee in 1975 and joined the Bhaktivedanta Book Trust (BBT) where I worked with several artists to illustrate books produced by the spiritual master and scholar Bhaktivedanta Swami Prabhupada. I have since opened my own gallery in Tavarnelle, Tuscany, where I currently reside, where I work mostly with contemporary art.
What is it about Vedic culture that interests you the most?
There are three texts that have inspired and informed my work. These are the Srimad Bhagavatam, the Bhagavad Gita and more recently the Chaitanya Charitamrita, which details the life and times of Krishna devotee Chaitanya Mahaprabhu. These three texts have helped me develop a vision of the spiritual world and a deeper understanding of the teachings of Krishna.
How did you come up with the idea of the Mahabharata Collection?
Italy has been the epicentre for the development of art. Our Renaissance paintings are famous all over the world. This style was used to depict the life led in those times and also to propound the teachings of Christianity, especially to people who couldn't read. They would feel closer to their God just by looking at the paintings. I thought this style could be replicated to propound the Vaishnava tradition. I called my friend Jnananjana (Giampaolo Tomassetti) and in 2008 we began working on how to spread Krishna's vision through the paintings.
Tell us more about your connection with Giampaolo Tomassetti and how this collaboration came about.
Jnananjana and I are not friends, we are brothers. Our association began in 1976. I got to see first-hand what a fine artist he was at Villa Vrindavan (ISKCON centre in Italy, which is also home to The Mahabharata Collection). He is an expert in everything – from replicating the nuances of the human anatomy, to architecture, and how to dress the figures in his paintings. I think he was a great, great artist in his previous life. All of what he learnt then he is showcasing in this life. I believe this even more because he never went to art school and so he was born with these skills. When I got the idea to spread Krishna Consciousness using large paintings, in this case through the Mahabharata, I immediately thought of him because he has the capacity. He had already done a huge painting in Sicily that is 9m x 3m in size, which looks like a Renaissance painting.
Describe the process of putting together this collection.
The both of us had several discussions on how the collection should take shape. As I said earlier, I knew I could prepare a big canvas for him. But Jnananjana had it in his mind what kind of paintings he wanted to do. I gave a few suggestions for some of the pieces, but a majority of them are a product of Jnananjana's mind and imagination.
Why do you think the Mahabharata remains relevant even today?
The Mahabharata is eternal. Its relevance is not related to yesterday, today or tomorrow.  Bhaktivedanta Swami Prabhupada spread Krishna Consciousness all over the world, and The Mahabharata has definitely become one of the most interesting texts to read, especially the Bhagavad Gita, in which Krishna reminds Arjuna about his duty (dharma) before the start of the great war, which is relevant even today.
Which painting would you describe as your favourite and why?
This is a very difficult question. All of the pieces are amazing. But I think the piece depicting the Pandavas entering Hastinapura is more complex. It is opulent, rich in architecture and landscape and also exudes power. This piece is my favourite. But there are other paintings such as the ones of Karna and the wheel, and Kunti and Surya that are also amazing.