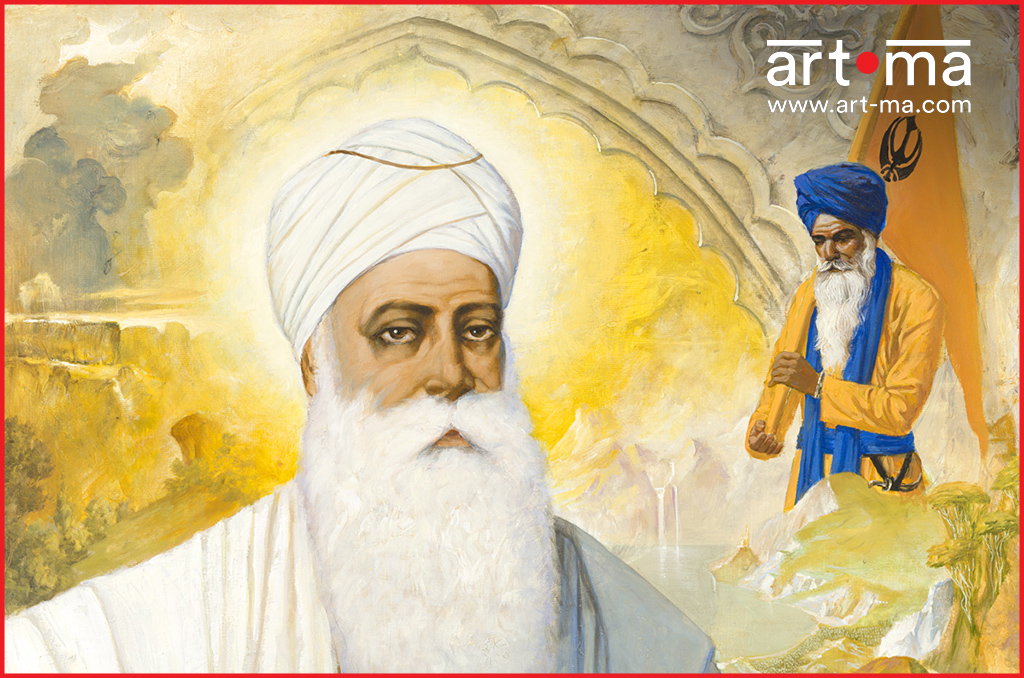 There is only one creator, who lives in every soul that inhabits this Earth — this is the primary teaching of the Sikh religion. In His eyes, every being is equal. Guru Nanak, who was the founder of Sikhism, believed that to get closer to this Supreme Being, one must practice selfless service, strive for social justice and live life with utmost honesty. These humble teachings by the first Sikh guru form the crux of Italian artist Giampaolo Tomassetti's painting, which is being launched on the sacred occasion of Guru Nanak Jayanti.
Guru Nanak, who is the beatific central figure in Tomassetti's piece, was an enlightened soul who walked this Earth to spread the message of God. His aura was brighter than the sun, as depicted by Tomassetti using a vibrant golden hue. His meditative pose and gentle eyes reflect a quiet wisdom. He holds a white rose in his left hand, which symbolises purity of thought. The flower is also a symbol of the transient nature of life. We are all on this Earth for a fleeting moment. Like a rose, we have the potential of beautifying not just our lives, but of those around us by being of service to them. In his right hand, Guru Nanak holds prayer beads.
On the right, a disciple stands with his head bowed down in reverence to the guru. He is holding a Sikh flag (Nishan Sahib), with an emblem in the centre. This emblem includes a double-edged sword in the centre, a circle and two single-edged swords on either side. The double-edged sword is a symbol for the power of God, who determines the destiny of the universe. The single-edged sword on the left symbolises spiritual sovereignty, while the one on the right represents political sovereignty. Bringing a balance to the two sides is the circle in the centre, which symbolises oneness and the unity of humanity.
On the bottom left of the painting, a Sikh man showcases his skills by riding two horses at the same time. His connection with the horses is strong and symbolises the connection every person must have with God in life, 'for the body is the horse, upon which one rides to God', says a line in the Guru Granth Sahib, the central religious scripture of Sikhism. At the very bottom of the painting, we see a throng of devotees assembled to remember Guru Nanak. In front of them glistens the Golden Temple, located in Amritsar, which is the most important spiritual site in Sikhism.
Tomassetti's piece brings out the hopeful message of the Sikh culture – that we are all God's creations. It seeks to invoke fraternal love and the feeling of being one among equals – much-needed thoughts in today's uncertain times. This is a sublime piece that is sure to bring positivity, faith and lots of good vibes into your home.