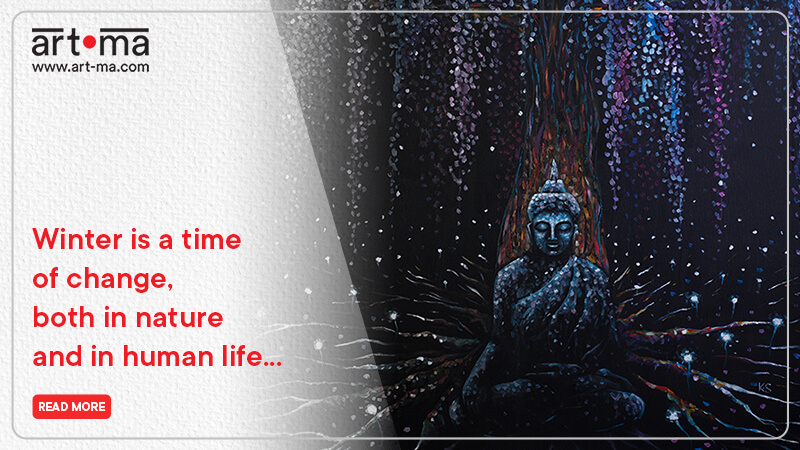 Winter is a time of change, both in nature and in human life. The days get shorter, the nights get
longer, and the weather gets colder. This can be a time of challenge, but it can also be a time of
opportunity.
In this painting "Winter Buddha" by Karun Soni, one in a series of artworks on the Seasons of
Buddha, the Buddha is depicted sitting under the Bodhi tree in a meditative state. At night we see
that the plants and the weeping willow provide natural light and a source of energy for Buddha. This
piece conveys serenity and spirituality, as well as being at one with your surroundings. With a similar
colour scheme throughout, the Buddha and tree become 'one' during his quest for inner peace. This
imagery can be seen as a representation of the Buddhist concept of interconnectedness, or the idea
that all things are connected to each other.
The artist gained inspiration for this piece from the movie Avatar which also explores the theme of
interconnectedness. The Na'vi, the indigenous people of Pandora, have a deep connection to the
natural world. They believe that all living things are part of a single web of life, and they live in
harmony with nature. The Winter Budda artwork and the movie Avatar offer a reminder that we are
all part of something larger than ourselves, and when we connect with nature, we find peace,
tranquillity, and a sense of belonging.
If you are looking for an artwork that will inspire you to find peace and tranquillity, then Winter
Buddha is a perfect choice. It is a beautiful and thought-provoking piece of art that serves as
reminder that even in the midst of winter, there is always hope and peace to be found.