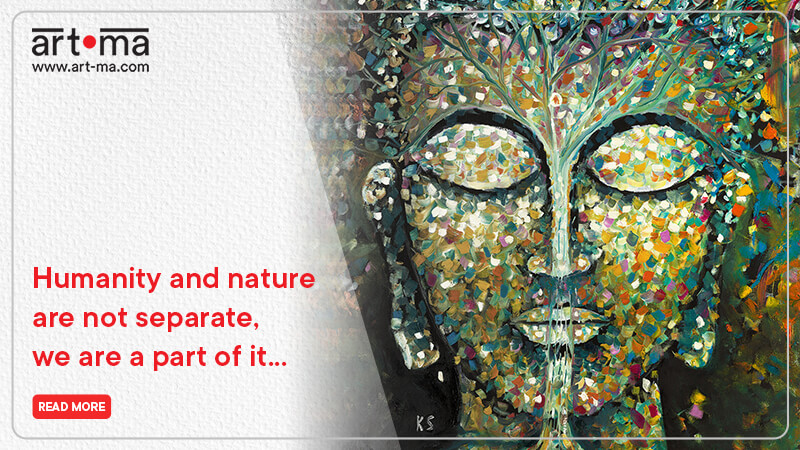 "Do not dwell in the past, do not dream of the future, concentrate the mind on the present moment." – Buddha
These words of wisdom have been expressed in artistic form by Karun Soni in this piece called 'Summer-At peace' – the third in a collection that represents the four seasons of Buddha.
The enlightened being has been depicted with His eyes closed, in a meditative state. Soni took inspiration for the oil on canvas piece from the story of Buddha meditating under a Bodhi tree for seven weeks straight before achieving enlightenment. He does not move and remains undistracted, and is one with nature. The tree and foliage that surround him reflect within him.
The artist wishes to convey the connection the human anatomy has with nature. For the matter that makes up our environment – air, wind, fire, water and earth – can be also found within us. We are one with nature, not separate from it.
Look closely and you will find the roots of the tree just under Buddha's face. Here, the artist wishes to express how just like the tree, Buddha also sits still and remains firmly rooted to the ground. He is completely present in the moment and therefore is at peace, just like the tree.
Bringing this artwork into your home will, therefore, compel you to take a moment out of your busy day and focus on the present – on who you are currently and not who you were or who you will become. For it is only when we acknowledge and accept who we are in the present moment, can we attain happiness and peace not just for ourselves, but for those who love us.