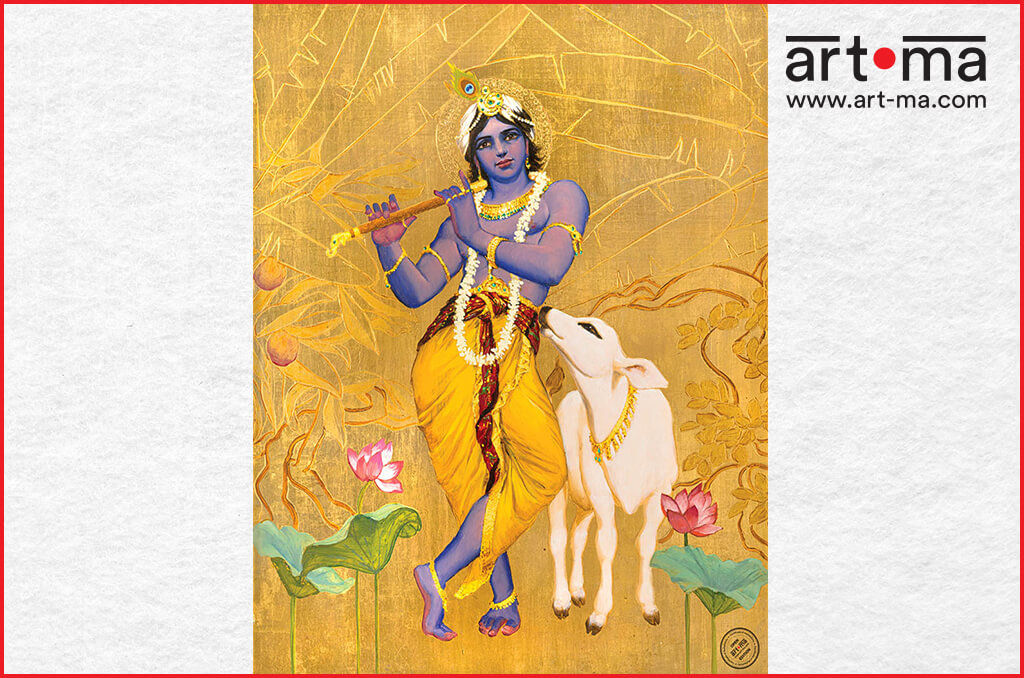 Lord Krishna, a Hindu God, is the epitome of divine love, of pleasure and of eternal peace. In a world that is increasingly divided, Krishna's message of love is now relevant more than ever. Through good times and bad, Krishna always chose to rise above circumstances and maintain inner peace with a smile. He lived a life without attachments, and yet maintained fruitful and loving relationships. There is much to emulate when it comes to Lord Krishna's life and teachings. As a child, Krishna was called Gopala, which means the protector of cows. Therefore, on the auspicious occasion of Krishna Janmashtami (Krishna's birth), art-ma proudly presents this new artwork titled Gopala Krishna by Italian artist Giampaolo Tomassetti.
In this piece, Krishna is shining the light of Brahman, which is the ultimate, constant reality as opposed to Maya, which is the universe as we perceive it, but it is temporary and always changing. This Brahman light shines upon all of God's creations, symbolised by the calf and the lotus flowers. Krishna is playing the flute and the musical notes imitate the form of leaves all around. Inspired by the Gothic art style of fondo-oro, the artist illuminates the background with a rich coat of gold. This background symbolises the Brahmajyoti (spiritual) sky.
This beautiful artwork will add a rich and artistic aesthetic to any space that it graces. With this piece, you will surround yourself with the positive vibrations of divine love and Lord Krishna's blessings.