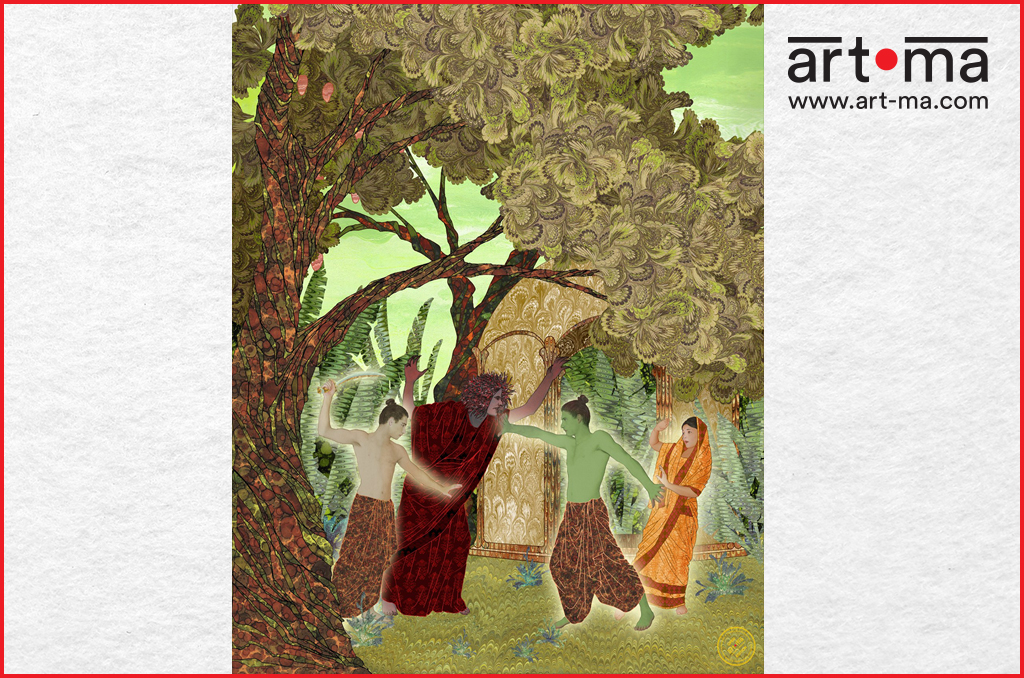 The world depicted in the Ramayana is largely patriarchal. Both the protagonist, Rama, and antagonist, Ravana, are dominant male figures who commanded respect among their followers. But between these two extreme figures lie a few important women without whom this epic saga would never have come to be. Here are a few of the notable women in the Ramayana, who elevate the story several notches higher.
First and foremost, we have Sita, of course. She is the heroine in the Ramayana—a fearless, self-sacrificing daughter, wife and mother, who defined what it meant to be a woman in those times. Sita was an orphan, who was found by King Janaka in a field. Her wealthy status, however, never defined her. She chose her husband, Rama, in a swayamvara, and stayed true to her vows until the end. When the couple was banished into exile by her father-in-law, King Dashratha, she dutifully followed her husband and settled into her new austere life uncomplainingly. Her kidnapping by Ravana tested her the most. But even while imprisoned, she remained forward looking and never gave up hope. Her belief in her husband never wavered. Not even when he made her walk through a fire in order to prove her purity that was questioned once she had been rescued. This was a woman not scorned, but self-assured and willing to sacrifice her life for her family. She is the only woman who appears throughout this epic poem.
In contrast to Sita is Shurpanakha. This demoness was Ravana's sister. When she met Rama while he was in exile, she was attracted to him. But a devoted Rama told her he was not interested and spoke of his love for Sita. Shurpanakha then showed interest in Rama's younger brother, Lakshman, who also rejected her advances. Instead of accepting the rejection, Shurpanakha chose to attack the source of all her resentment, Sita, but got her nose cut off by Lakshman instead. An angry Shurpanakha then went to Ravana and convinced him of Sita being a potential match for him. This, of course, set the wheels turning and led to the great battle of Lanka, where both Rama and Ravana fought over Sita.
But much before Sita and Shurpanakha, there was another woman in the Ramayana without whom Ram would have never been exiled in the first place. Her name was Manthara. She was a helper in King Dashratha's palace, and mainly attended to his wife Queen Kaikeyi, who was also Rama's step-mother. When it was decided that Rama would succeed his father to the throne, Manthara was displeased. She reminded Kaikeyi of the two boons that Dashratha had promised his wife when she had saved his life. Manthara told Kaikeyi that it was not Rama but her son Bharat who deserved to be heir, and convinced the queen to use the boons to make this plan a reality. Therefore, without Manthara, the main conflict in the Ramayana would have never occurred.
Kaikeyi, of course, listened to Manthara and convinced her husband to grant her the two boons. She first asked for her son Bharat to be made king, and for Rama to be exiled for 14 years. A reluctant Dashratha had been outplayed and had no choice but to grant his wife's wishes.
While Manthara and Kaikeyi quietly made their moves to ruin Rama's life, there was another woman named Urmila, who quietly ensured Rama and his family remained safe in their time of need. Urmila was Lakshman's wife and they had married at the same time as Rama and Sita. But unlike Sita, who followed her husband into exile, Lakshman told Urmila to stay behind and take care of his parents while he went into the forest to protect Rama and Sita. Urmila agreed to take on the responsibility and was separated from her husband for 14 years. During this time, Lakshman did not want to sleep in order to provide continuous protection to Rama and Sita. He was allowed to forgo his sleep by Nidra Devi, who was the goddess of sleep, on one condition—that he name someone who could make up for all the sleep that Lakshman would be losing out on. Lakshman named his wife, and thus, Urmila was asleep the entire time that her husband was away in exile.
While these women were certainly depicted as black and white with no shades of grey, they reflect the times that this epic poem was written in. The Ramayana, therefore, gives us a great insight into how tough things were for the women of those times, how far we have come since then, and how far we still have to go.