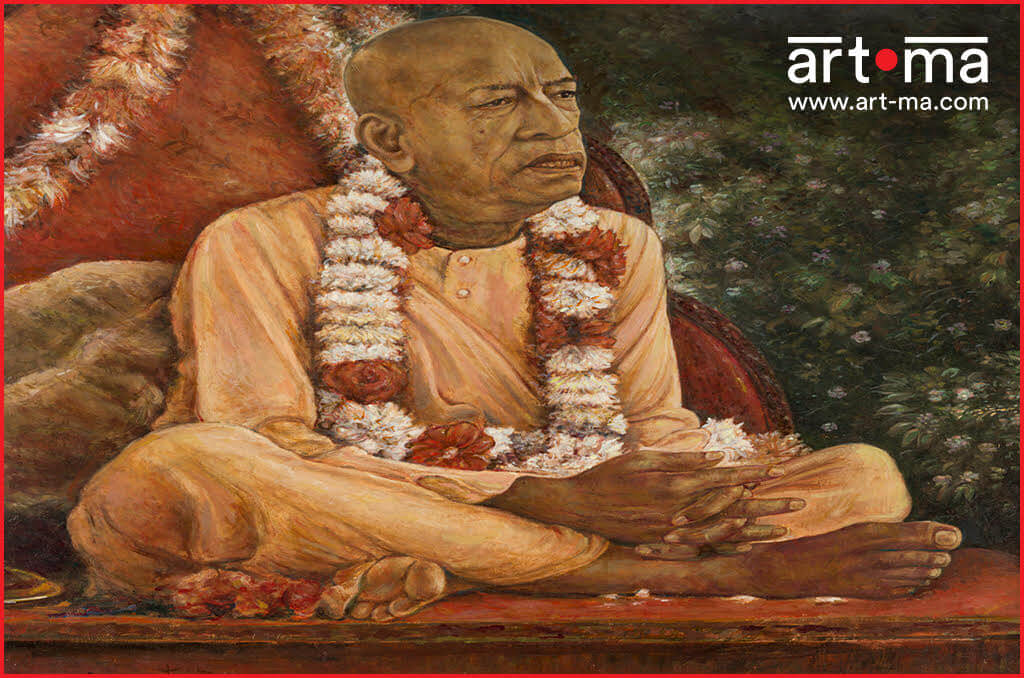 "Hare Krishna Hare Krishna Krishna Krishna Hare Hare"
This is a powerful chant in praise of Lord Krishna that is heard the world over. The transcendental vibration of this chant is not only pleasant to the ears, it is also a way to cleanse the mind, release it from all materialistic misgivings and revive the consciousness that the mind has forgotten about while in pursuit of worldly possessions. This is the chant that reconnects the soul to the Eternal Supreme Being, to Lord Krishna and his teachings.
On the occasion of the 125th Appearance Day of the Founder of ISKCON (31 August 2021), Art-ma is proud to unveil a new artwork by Italian artist Prasanta Das (Pietro Di Giovannantonio) celebrating the life and works of Srila Prabhupada, a spiritual leader who worked tirelessly to spread the power of the Krishna Consciousness across the world.
Das depicts Srila Prabhupada in a quiet, reflective state. His hands intertwined with each other, his face composed and stoic. He is surrounded by nature, and yet doesn't overshadow its presence. Srila Prabhupada wears austere orange robes and sits on a seat painted red. These colours can be overpowering, and yet, in this piece, they are given a muted hue. This artwork reflects the teachings of Srila Prabhupada, who said humans suffer because of their constant struggle to conquer nature in pursuit of happiness rather than co-exist alongside it, thus creating a false consciousness. Material comforts are nothing but Maya, an illusion of freedom, when the reality is humans have never been as bound by laws as they are now. To break away from this illusion, Srila Prabhupada said, is to revive the pure Krishna Consciousness that lies dormant within all who walk this Earth.
This enlightened piece is a tribute not just to the great spiritual leader, but also to Lord Krishna's teachings in the Bhagavad Gita and the Srimad Bhagavatam that say – to live in happiness is to surrender to God and love Him unconditionally.