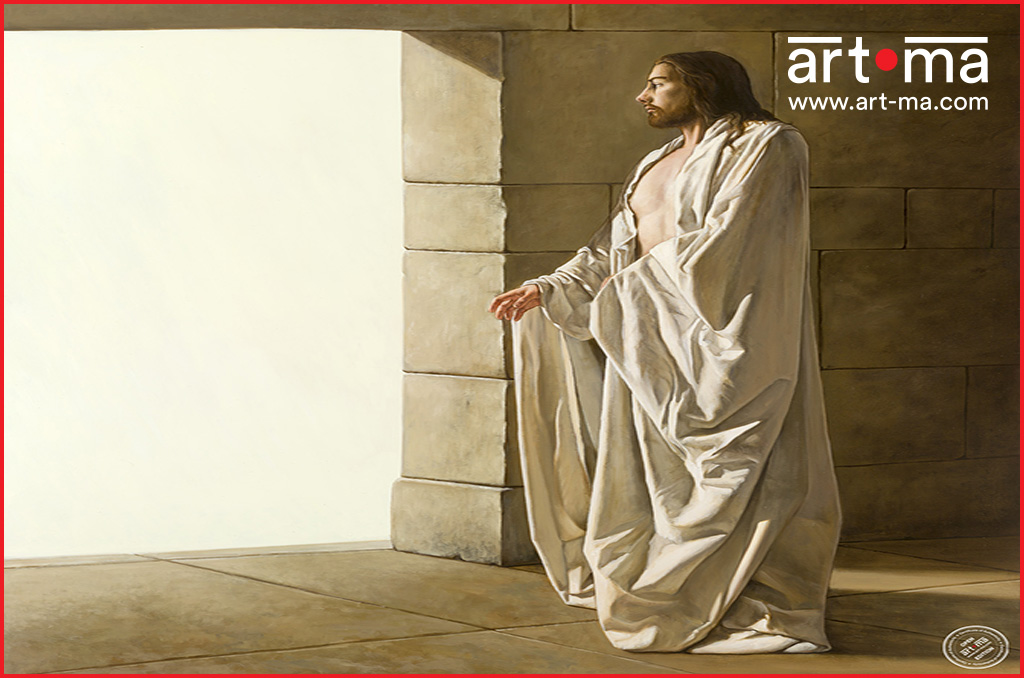 "Jesus said to her, 'I am the resurrection and the life. The one who believes in me will live, even though they die; and whoever lives by believing in me will never die. Do you believe this?'"
The Resurrection of Christ, celebrated as Easter, is one of the chief doctrines of Christianity. It is a belief that on the third day after his Crucifixion, Jesus Christ was raised from the dead. Followers believe that as death no longer had "any mastery over Him" it gave them a chance to be spiritually resurrected with Him and live a life devoid of sin to achieve eternal salvation. Artist Jon Wind recreated this blessed event in his serene artwork commissioned by Art-ma on the occasion of Easter.
Resurrection is a theme that is not just unique to Christianity, it is found in other religions as well. In the Greek religion, a number of mythological figures rose from the dead to become immortal. Asclepius, the Greek God of medicine, for example, was killed by Zeus, the God of sky and thunder, but was later resurrected and made a deity.
Islam also talks of resurrection. A day, also known as Doomsday, will come and life on Earth will end. Each and every person will be raised from the dead and judged for their deeds and their faith. Unbelievers will be sent to Hell, while believers will be forgiven for their sins and sent to heaven.
Hinduism believes more in the power of reincarnation, where the soul, after a biological death, begins a new life in a different physical form or body. References to resurrection, however, are still found in some religious texts. In the Ramayana, for example, after Rama defeats his arch nemesis Ravana in the Great Battle, He requests Indra, the King of Gods, to resurrect all the monkeys in His army, who died in combat.
This theme of resurrection, that runs across cultures and religions, therefore, serves as an important reminder of the synergy that exists between all of us, irrespective of our backgrounds. Let this Easter, therefore, be a day of expressing solidarity to a greater good – by embracing oneness and forgetting differences.